Generating a Certificate Signing Request (CSR) using cPanel / WebHost Manager
Login to your control panel system.
Click on the Generate an SSL Certificate and Signing Request link in the SSL/TLS menu, so you will see the following screen: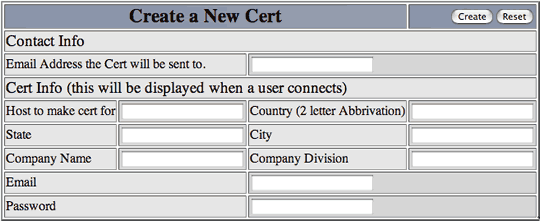 Fill in all the fields as follows:
Email Address the Cert will be sent to - Enter your e-mail address.
Host to make cert for - Enter the domain name that you want to use your SSL certificate with.
Country - Enter the two-letter country code for your country.
State - Enter the name of the State or Province in which your organization operates. Do not abbreviate.
City - Enter the name of your city, town, or other locality.
Company Name - Enter the name of your organization.
Company Division: Enter the name of your division, department, or other operational unit of your organization.
Email - Enter your e-mail address.
Password - Enter a password in this field to protected the private key.
Click Create when finished.
You will receive an e-mail that contains the CSR.
When asked to "Copy & Paste" your CSR into the CSR field during the order process, copy the CSR from the e-mail into the CSR field on the order form.
Additional information
For additional information, please visit http://www.cpanel.net/docs.htm.